Current Issue (October 2016):
NEXT BULLETIN ISSUE DELIVERED: NOVEMBER 6, 2016
DEADLINE FOR OCTOBER ISSUE: OCTOBER 26, 2016
CLICK HERE TO READ ONLINE
The Bulletin Magazine is a FREE print publication
mailed 10x per year
to all residents & businesses in East Gwillimbury, ON.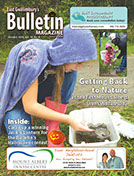 From April 2016 Issue:
Finding Ourselves Under the Layers
There is a community in East Gwillimbury that aims to heal the world one body at a time. I have been curious about Bare Oaks Naturist Park for years and every time I drive by their gate on Kennedy Road just south of Queensville Road,
I wonder about
the property, who goes there and generally, what is a Naturist Park? So finally, one wintery day, I pulled up the driveway...
From November 2015 Issue:
Doing the right thing
I am a fan. I know that mayors of big cities don't usually have fans, but Naheed Nemshi, the mayor of Calgary since 2010 and the first Muslim mayor of any major
North American city, has captured my imagination and soul in a way that no political leader ever has.
Submit Your Event for Community Happenings:
Information must be received by the 20th of the month to be included in the next print edition. This is complimentary for
non-profit events (space permitting). Please, only one event listing per organization per issue.
If you have an event you would like to promote but it is NOT a non-profit or charitable event, there is a small fee.
NOTE: Our next issue is November 2016. Please ensure the event you would like to promote in the Bulletin takes place after November 6. Thanks!
COPYRIGHT 2016 - PLAYING WITH WORDS SPECIALTY PUBLICATIONS